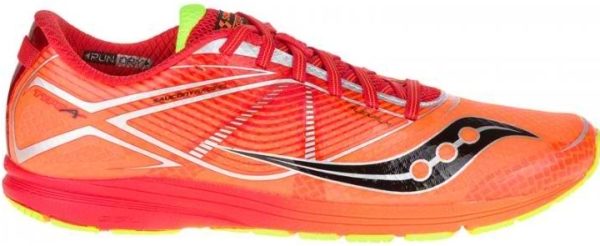 I have been using the Saucony Type A4 shoe for over a year now, particularly for my interval and tempo workouts, and also for my races (duathlons, mostly). I changed the laces to lock laces for a quicker T2.
To be straight about it, this is a great fast shoe for your intervals, tempo runs, and races. It solicits quick leg turnover due to its (almost feather) lightness and with just the right amount of cushioning for a low-profile race shoe.
I highly recommend this shoe if you're looking for a pair for your fast days.....
....however....
Saucony needs to improve the strength of the Flexifilm technology that wraps the upper of this shoe. As the pictures of my pair show below, the Flexifilm wrap has torn out of regular wear in the areas that frequently folded in my running gait. Further, it has caused the inner layer to tear as well.
This causes the shoe to lose a little grip on the front part of my feet, which could cause some discomfort (slight slip?) upon ground contact. This is apart, of course, from the obvious degraded look of the shoe.
It is unfortunate that the greatness of this shoe has been undermined by the low strength/durability of the Flexifilm.
And that is why, unless Saucony improves on this, I will have to look at other brands once the Flexifilm (and inner layer) finally gives away.